Who is the real premier healer of League of Legends?
Patch 5.2
This post investigates the oft made claim that Soraka is League's premier healer. The data comes from a set of over fifty-thousand NA solo-queue matches played at Diamond, Master, and Challenger elo (MMR) on patches 5.1 and 5.2. Riot's data API that I love so much tracks the total healing done by each champion in each game. By sifting through these numbers, we can come to find who actually heals the most.
Here is a table of leading single-match healing totals:
| | |
| --- | --- |
| Soraka | 108096 |
| Zac | 67739 |
| Sion | 61394 |
| Alistar | 59457 |
| Nidalee | 54853 |
| Tryndamere | 50263 |
| Fiddlesticks | 49972 |
| Swain | 46447 |
| Warwick | 45201 |
| Vladimir | 44717 |
---
From this angle Soraka is definitely on top. Healing for over a hundred-thousand points in a single match is actually quite silly. I dug through the match history to find the game where this actually happened. The player who did it was HRG Ozadin, who appears to play a lot of support, and who must now be recognized as the greatest single-match healer of recent memory.
I didn't know which champions would show up on this table, but now that I see it, I can imagine these champions having stand-out healing performances. Interestingly, only Soraka, Alistar, and Nidalee on this list actually heal other champions. The rest of this list is people merely selfishly healing themselves outlandish amounts.
Here is the match where Tryndamere went buck wild and healed for over fifty-thousand points. It looks like Scoti got fed, and built full-ap with Rageblade, Zhoyna's, Deathcap, Lich Bane, and Nashor's Tooth; took 370 cs in 37 minutes and won the game. gg
Over a hundred-thousand points of healing is such a rediculous number. That is around 5x Soraka's typical healing output. We can see that here in a chart of average total heals:
| | | | |
| --- | --- | --- | --- |
| Zac | 24087 | 11278 | 437 |
| Soraka | 22179 | 10689 | 3789 |
| Warwick | 15335 | 5685 | 1288 |
| Sion | 14328 | 8551 | 3476 |
| Fiddlesticks | 14262 | 5801 | 4985 |
| Aatrox | 12863 | 6086 | 508 |
| Yorick | 12657 | 5889 | 391 |
| Vladimir | 12216 | 5898 | 3176 |
| Swain | 11382 | 6013 | 1984 |
| Taric | 10864 | 5750 | 648 |
---
But wait! Who is on top now?
It is Zac. On average—both mean(shown) and median(not shown)—Zac heals more than Soraka per match. Some histograms can elucidate this further.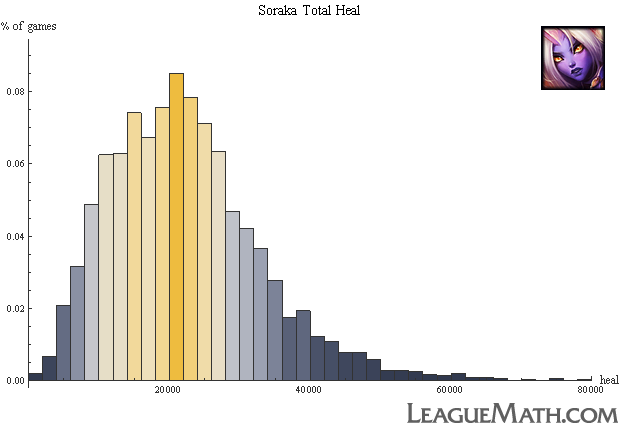 Soraka's typical healing in a game hovers around twenty-thousand points, but as we can see in this plot, the data is skewed a bit to the left of that figure. There are quite a few games where Soraka fails to heal a lot. Soraka is played somewhat frequently in the current meta, so there is a goodly amount of data here and the plot is relatively smooth.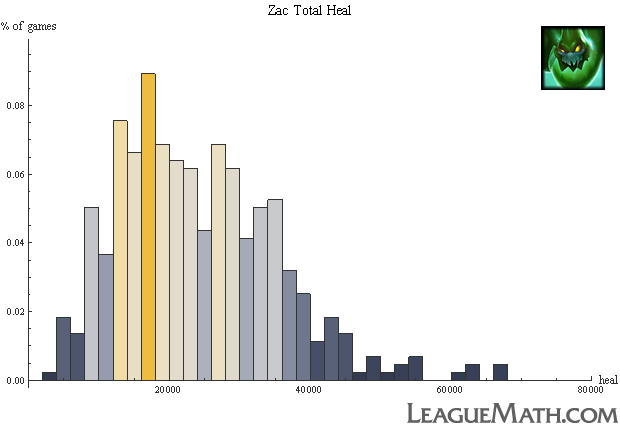 Like Soraka, Zac's average total healing hovers around twenty-thousand points per match. However, his data appears to be skewed somewhat to the right. There are relatively more data points near the 35,000 mark. Sadly, Zac is not popular at all in the current meta, and there is much less data to work with for this plot. Though, now that we see that he is the real premier healer in League of Legends (Ha!) I am sure we will see an uptake in his play.
---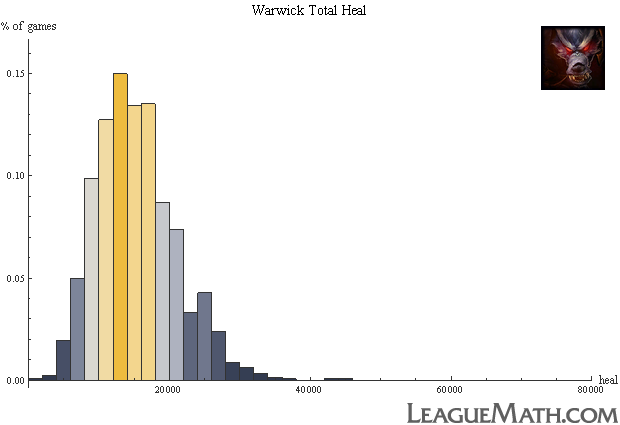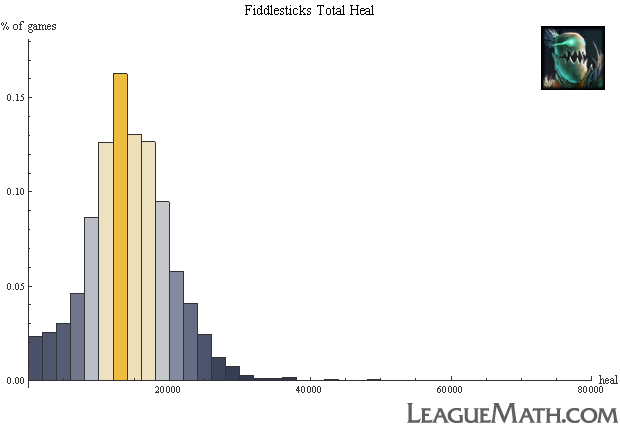 This is what a plot looks like for champions that merely traipse around the jungle draining life for themselves. The curves are much more predictable, and normally distributed. I find it interesting to see the different kinds of healing that go on in League of Legends. The shape of the data reveal some neat insights into different play styles that are available.
---
As always, thanks for your time. I appreciate you reading these articles, and I hope you enjoy reading them as much as I enjoy writing them. Of course, Soraka is the real premier healer in League of Legends, since she, you know, heals other champions. It's funny to see how much Zac can heal himself just by micro-ing grabbing all his blobs. Maybe the two of them together would be unstoppable.
I have been playing a lot of Soraka recently, and she is really fun. The impact you can have on fights by clever itemization (Ardent Censer anyone?) and use of her skills is tremendous. Let's all go heal for 100k points.
That is all for today, tell your friends: The real premier source for long-form League of Legends math content is the one and only LeagueMath.com.
---
No feelings of Taric mains were harmed in the making of this article (I hope).
Peace.