Who is using which summoner spells?
Patch 4.17
Last week I took a quick look at the difference in rune usage between silver league players and challenger players. This week I'd like to do something similar, looking at some data about which summoner spells are being used.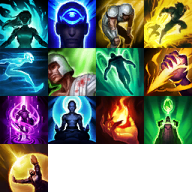 Again, all this data comes from my patch 4.17 dataset which includes every ranked solo-queue game played by a set of 200 challenger level players on that patch, and every game played by my cohort of ~200 silver I-V players.
First off, you can't talk about summoner spells without mentioning flash. It's by far the most used summoner spell.
In my patch 4.17 dataset I see silver players choosing flash as one of their summoner spells 93% of the time and challenger players choosing flash over 98% of the time. This is absurdly high, in both cases. I guess the developers really like the gameplay that follows from everyone on the map having flash.
It's an interesting exercise to think about possible nerfs to flash or buffs to the other spells that might bring these numbers down.
Here's a table that shows how frequently silver level players use each spell:
| | | |
| --- | --- | --- |
| 93% | | Flash |
| 30% | | Ignite |
| 22% | | Exhaust |
| 21% | | Smite |
| 19% | | Heal |
| 11% | | Teleport |
| 3% | | Ghost |
| 1% | | Barrier |
| <1% | | Cleanse |
| <1% | | Revive |
| <1% | | Clairvoyance |
Smite right around 20%; that looks promising. And teleport at 11% says to me that about half of top-laners are taking teleport in silver solo-queue games.
It's time to buff barrier, just double the shield and the duration, it'll be great.

Here's a similar table for challenger level players:
| | | |
| --- | --- | --- |
| 98% | | Flash |
| 30% | | Ignite |
| 23% | | Heal |
| 18% | | Teleport |
| 17% | | Smite |
| 11% | | Exhaust |
| 2% | | Ghost |
| <1% | | Barrier |
| <1% | | Cleanse |
This table is very similar, but there are some subtle (and potentially interesting) differences. First, teleport is quite a bit higher. This confirms my suspicion that teleport is a powerful spell that requires skill to use correctly. These high-level players have better map awareness and are able to put the spell to better use. It also looks like a silver-level player is about twice as likely to take exhaust. This also makes sense, since exhaust is single-target and takes effect immediately, so it's a lot easier to use effectively.
The fact that smite has a lower percentage in this table probably reflects the set of 200 challenger players I collected the games for. This particular set may have fewer than 20% jungle mains. That is, since the dataset was drawn from players (and not from games), the predilections of these players will be represented in the dataset. It might be interesting to do further analysis and look at the main roles played by players at different ranks.
Also, revive and clairvoyance don't show up in the challenger table at all. In all the thousands of games I downloaded for this dataset, no challenger player picked either of these skills even a single time. You'd think there'd be at least one troll game in there. Ha!
I think that balancing the summoner spells would be a tremendously challenging part of designing this game. High level players are ruthlessly efficient, and if one spell offers even a tiny advantage over the others it will be picked in a disproportionate number of games. Flash acts as a once-per-five-minutes get-out-of-jail-free card, and it introduces lots of interesting game play both in its use and in trying to punish your opponents when they have it on cooldown.
The main choice in summoner spells is then choosing which role-specific spell you pair with flash; for example, smite for junglers, ingite for lane kills, or exhaust for team-fights.
---
This was a quick article, but I do think some of these numbers are interesting. Keep on flashin', stay cool, and I'll be seeing you soon for more fun league & math here at LeagueMath.com.
---
No summoner spells were harmed in the making of these tables.
Games + Data × Analysis = Fun.
Peace.